Fine Ceramic Production Process
Touch-down Technology is manufacturer with 25 years of experience in ODM (Original Design Manufacturer) and OEM (Original Equipment Manufacturer) of fine ceramics/advanced ceramics. It provides excellent services and extremely competitive quotations.

Customer satisfaction is valued most by Touch-down Technology, and we are honored to receive a thanking letter from each customer every year.
Production Process of Touch-down
1. Material: Raw materials are special raw materials for special fine ceramics imported from Japan.
2. Green-ware Forming: The equipment can be divided into injection forming, CIP isostatic pressing and dry-type punch forming which may be selected by different shapes and characteristics.
3. Degreasing (600°C) and high-temperature sintering (1500 - 1650°C) have different sintering temperatures by ceramic type.
4. Grinding Processing: It can be divided mainly into flat grinding, inner diameter grinding, outer diameter grinding, CNC processor grinding, flat disc mill, mirror disk mill and chamfering grinding.
5. The machined workpiece shall be transferred for cleaning, drying, packaging and delivery after passing the appearance inspection and precision dimension inspection.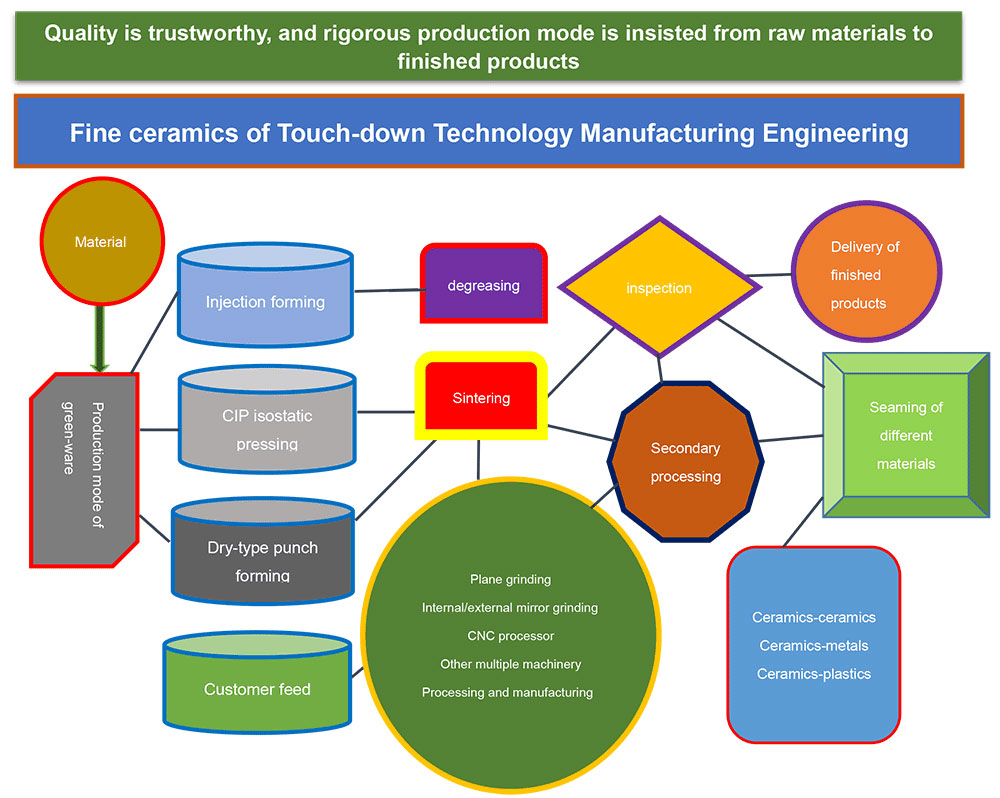 Flow Diagram of Fine Ceramics Manufacturing of Touch-down